Many who are watching the Muslim invasion underway in Europe have predicted that Sweden will be the first domino to fall under the burden of the sheer numbers of lawless Muslims pouring across the Swedish border, attracted by Sweden's freedom and generous social welfare system.
There are some horrible prices to pay for this liberal political correctness, allowing unvetted foreigners to take residence in a first world society. Many of those prices are very personal.
Once peaceful Sweden has become the rape capital of Europe and only one African nation on the planet has a higher rate of rape. At Sweden's current rape rate, one in four female Swedes will be raped at least once in her lifetime, and in almost every case the rapist will be a Muslim.
In the article, below, from the Swedish paper, Fria Tider, a Swedish woman, just last week, was gang-raped by 7 Muslim men for hours, often two of them at a time. This is what Sweden has become. This is what all nations who permit uncontrolled and unvetted immigration of Muslims across its borders are destined for. Not all Swedes are accepting this policy of their moronic leaders. See our links below the Fria Tider article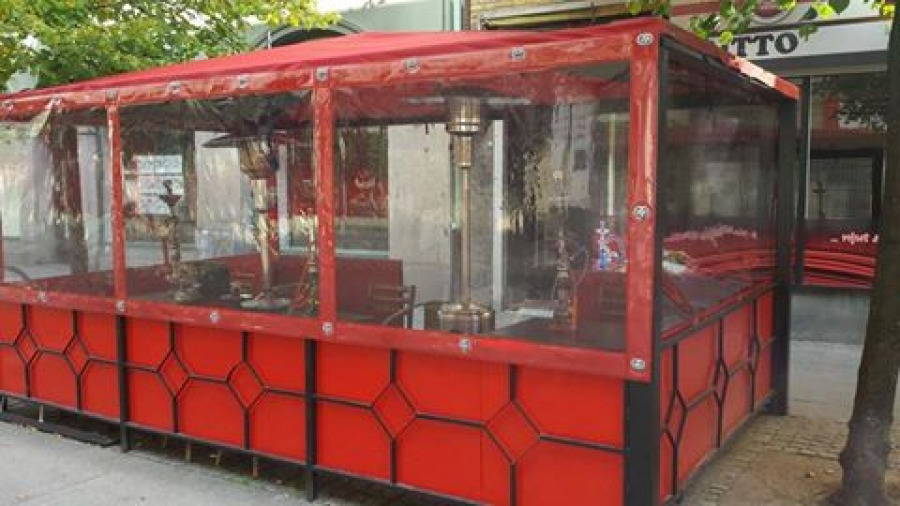 Cafe Hookah: Here was held the woman rape slave in the cellar
take our poll - story continues below
Who would you vote for if the elections were held today?
Completing this poll grants you access to Powdered Wig Society updates free of charge. You may opt out at anytime. You also agree to this site's Privacy Policy and Terms of Use.
From Fria Tider, via The Gateway Pundit, published January 4, 2017 at 12:16
DOMESTIC. Originally there were seven Arab men arrested for kidnapping a woman at gunpoint and raped her in the basement of a cafe in Helsingborg. Now sentenced two of them, both stateless. One of them already had a deportation order – but still allowed to stay in Sweden as "paperless refugee".
 28-year-old Khaled Azez Hegrs and 23-year-old Tareq Bakkar, who both have an interpreter needs in Arabic, convicted of gross rape of a woman in the cafe basement water pipe in Helsingborg. The woman was kept in the basement for several hours during the night.
The woman was forced into a car by four men in Malmö and was then driven to the café on South Street in Helsingborg where more waiting to rape her.
When the car arrived the woman was taken to the basement of violence. There ripped Khaled woman by the hair, pulled her down on a couch and held her arms and legs with her body weight before he pulled off her clothes. By also threaten that he or others would hurt her with a weapon like objects, he forced her to oral, vaginal and anal intercourse.
He then explained the woman to the six other Arabs would also rape her, the victim said in interrogation.
Then they raped although Tareq woman by grabbing her arms, pulling her down on her back and pushing her legs apart.
The woman told that six of the seven men in turn raped her. On one occasion she was raped by two people simultaneously.
But according to the prosecutor lacked "sufficient supporting evidence that the correct application requires for a conviction" for five of the men who originally were in custody in the case of detainees were prosecuted by only the other two: Khaled and Tareq.
– It feels good that we found forensic evidence, for it can sometimes be difficult. In some materials, for example, very difficult to find traces of semen, Paulin, investigators at the police section for crimes in close relationships.
According to data from the Prison and Probation Free Times noted the Khaled stateless and claims to have fled Kuwait because of the country's government and security forces who did not accept his love relationship with a woman. He came to Sweden in 2010 and has been denied his asylum application in all instances. Despite this, he was allowed to stay in Sweden because he was "paperless"
Even Tareq is stateless, but have received a permanent residence permit in August 2014. He is from Syria and lives with his mother and a family friend in an apartment. Tareq gets about 7 000 in contributions each month from the Employment Service, by his studying at SFI.
Both are sentenced to the minimum sentence of four years in prison for aggravated rape. Those sentenced also to deportation. Malmö District Court notes that today exists "to enforcement" against expelling Tareq to Syria, but continues:
"In this case, the associated enforcement obstacle with current political circumstances and there are strong reasons to believe that the obstacle is not composed when asked about the enforcement of the expulsion decision occurs. In such circumstances, it is not considered to be obstacles to expel Tareq Bakkar."
Links to the horror underway in Sweden….