H/T Thomas Ventimiglia
And you thought President Trump's visit to Poland was just a social call! Donald Trump does not make purely social calls. He is turning deals on the golf course, at lunch, and in his sleep. The beneficiaries? We the People!
As I was saying during the 2016 presidential election, there is a YUUUUGE benefit to having a patriot in the White House who is also a big-thinking, globally-experienced business genius.
Why is President Trump going so aggressively for oil and gas export to Europe? It is my opinion he is trying to wrest control of the global oil and gas market from the hands of OPEC, no friend to We the People of the United States or any other country they force their product and pricing on. OPEC is continuously manipulating the global market, curtailing production to cut the price when they can screw an extra buck out of consumers, glutting the market to drop the price when they see a threat from a competitor like US domestic production.
I was in the oil biz on the securities end in Dallas, Texas in the early 1990s and saw OPEC's handiwork up close and personal. A new technology, horizontal drilling, had created a boom in domestic oil production. Times were great and gas was cheap again. The Sheiks didn't like that. US domestic production was dropping market prices and control away from OPEC, which in turn glutted the market with oil, dropping the price drastically, making American oil no longer profitable and squeezing it out of the market. OPEC then kept production and the price at a point that only its oil would be profitable.
take our poll - story continues below
Who would you vote for if the elections were held today? (1)
Completing this poll grants you access to Powdered Wig Society updates free of charge. You may opt out at anytime. You also agree to this site's Privacy Policy and Terms of Use.
Enter the shale boom. OPEC is threatened again, thus the price drop we have seen over the past few years keeping the pump price in the $2 range. This has been a deliberate attempt by OPEC to squeeze out US domestic production. US producers were hurt, but have held on this go 'round.
I believe the profit point for domestic production is a $2 pump price, which equates to the barrel price of $40 to $50. If we allow OPEC to manipulate the market, they will, and we will see $4 and $5 pump prices again, they will get even richer, and lo and behold, terrorism is likely to spike, as it typically does when Middle East oil producers have lots of extra cash laying around. My two cents on President Trump's motives for his trip to Poland.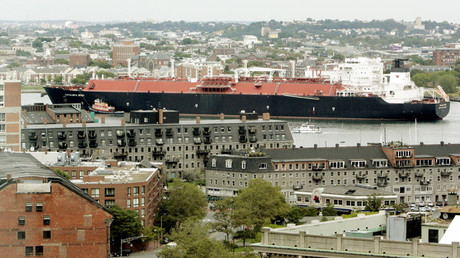 A month after the first US tanker carrying liquefied natural gas (LNG) arrived in Poland, Polish President Andrzej Duda has unveiled an ambitious plan to make the country a pan-European energy hub able to distribute gas across the EU, reports 
RT
.
"Can we become a hub through which American LNG gas will flow to central Europe? I am convinced the answer is 'yes'," Duda told journalists after a meeting with US President Donald Trump.
The Polish president stressed the issue is under the framework of Three Seas Initiative – an alliance of a dozen eastern and central European nations that border the Adriatic, Baltic and Black seas.
Last month, Poland received the first shipment of LNG from the US. As a group, the countries aim to diversify energy supplies, reducing their dependence on oil and gas provided by Russia.Earlier, the Polish foreign minister said more liquefied natural gas (LNG) supplies to Poland depended on the US.
"One tanker has arrived, and we have shown ourselves that this is possible. Now everything depends on the American side, whether they will offer a contract which would be commercially beneficial for Poland," said Witold Waszczykowski as quoted by Reuters.
Duda also expressed hope for further long-term contracts with Washington.
"This opens up a path to more contracts. I hope that in the near future there will be a long-term contract entered into for LNG gas deliveries from the US, and through this, we will diversify sources of supply of this hugely important raw material to Poland," he said.
'Forcing us to give up Russian #gas to sell own is unacceptable' – German FM blasts US sanctions bill https://t.co/hIiE7ydPyT

— RT (@RT_com) June 30, 2017
The US president, in turn, promised not to use energy to coerce the European countries, saying he was not going to allow other countries to compel them either.
Trump stressed that he was proud the region was benefiting from US energy supplies.