UPDATE: al-Qaeda has claimed responsibility for the Paris attacks
From Matthew Weaver, Josh Halliday, Alexandra Topping, Jonathan Bucks, Alan Yuhas, and Raya Jalabi, The Guardian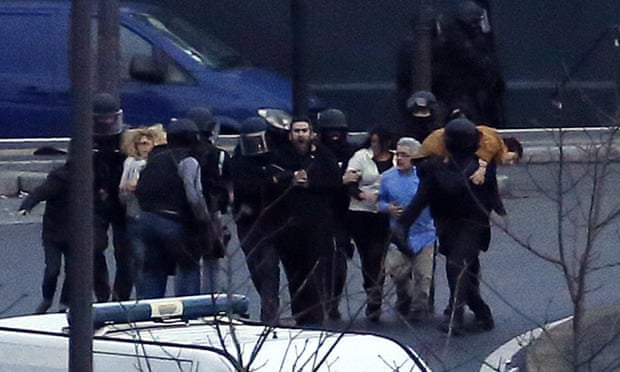 Summary
• Two dramatic police raids on separately besieged buildings killed the Charlie Hebdo gunmen and a third suspect, ending a three-day manhunt. Police found Chérif and Saïd Kouachi, wanted for murdering 12 people in Paris on Wednesday, and cornered them in a printworks office in Dammartin-en-Goële, a town near Paris Charles de Gaulle airport.
• French special forces stormed both the Dammartin-en-Goële printworks and a kosher supermarket in Vincennes, Paris, trading fire with the gunmen and throwing flashbang grenades after standoffs that lasted for hours. One hostage escaped unharmed in Dammartin-en-Goële, and police managed to free more than a dozen from the grocery.
• Four hostages were killed in the supermarket in Paris, where Amedy Coulibaly heldcivilians captive and demanded police allow the Kouachi brothers go free. Authorities believe Coulibaly and an accomplice killed a policewoman Thursday in southern France.
• French president Francois Hollande addressed the nation from the Elysée,congratulating police and saying the nation must not give in to such a "terrifying antisemitic attack" like the one on the grocery. "We are a free nation that does not give in," he said. "We carry an ideal that is greater than us."
• World leaders pledged support for France, many of whom will join Hollande at a rally in Paris on Sunday. British prime minister David Cameron, German chancellor Angela Merkel, and EU president Donald Tusk all said they would accept Hollande's invitation. US president Barack Obama said Paris' spirit of freedom "will endure forever, long after the scourge of terrorism is banished from this world."
• Earlier on Friday, French police asked for information about a suspect linked to Coulibaly and the murder of the policewoman in Montrouge. It named her as Hayat Boumedienne, and described her as "armed and dangerous" and at large.
The US State Department is reviewing security for operations in France but continues otherwise as normal, McClatchey's Hannah Allam writes.
What we know about the raids and hostages
In Dammartin-en-Goele:
The Kouachi brothers, Chérif and Saïd, who killed 12 during their attack on the Charlie Hebdo offices on Wednesday, fled north-east out of Paris to Dammartin-en-Goele, where police cornered them inside a printworks office. Unconfirmed reports indicate that there were two civilians trapped with the Kouachis: the owner of the printworks, Michel Catalano, and a member of staff. The member of staff escaped and hid in the building, and kept security forces (GIGN) informed by phone of what was going on.
French special forces eventually stormed the printworks from the roof and ground, firing on the Kouachis. The brothers reportedly charged the entrance firing at police, and both were killed. No civilians were reported harmed.
In Vincennes:
Shortly after police surrounded the Kouachi brothers outside Paris, Amedy Coulibaly entered a kosher supermarket with an assault rifle and took a number of people hostage. At the same time as the raid in Dammartin, police threw flashbang grenades into the grocery and stormed the building. The gunman was killed, and several hostages were seen fleeing the grocery and reaching police and ambulances.
Coulibaly spoke with French BFM television during the siege and said he had 16 hostages and had killed four. French president François Hollande confirmed in an address that four people were killed at the supermarket, and interior minister Bernard Cazenueve said that four hostages and the gunman died there. The Associated Press quoted an Israeli officialas saying the police raid freed 15 hostages. French media reported that four hostages were injured.