Photo, above: The Wicked Witch of Benghazi and Barack Hussein pulling answers from their asses during a joint CNN interview
Fair weather friends, these DemocRATS. At the first sign of trouble they are at each others' throats.
Such is the case with the major Democrat power brokers these days. In trying to understand Hitlery's stunning and unexpected loss (unexpected to nearly everyone but us in the alt media), they are spending most of their time organizing anti-Trump events, and the rest of their time pointing their fingers at each other. One thing DemocRATS learn early is never accept responsibility. It must always be someone else's fault.
I'm afraid they don't get it. The reason Hitlery lost is because she is a corrupt, criminal, lying, cheating, no-good-for-nothing, treasonous slimeball, and the Democrats, knowing that, actually ran her for President of the United States. You are ALL morons. You should have listened to me several months ago….
"The Democrats are batshit crazy if they nominate Hitlery Clinton to run for president. She may very well be under indictment before summer is over. They had better put all their eggs in the crazy uncle Bernie basket and do it soon."
As reported by International Business Times, President Barack Obama suggested fellow Democrat Hillary Clinton was partly to blame for her stunning loss to Republican Donald Trump in the presidential election. The president noted that Clinton should have focused on reaching out to white, non-urban voters like he did in both 2008 and 2012.
The president noted that Clinton's failure to "show up everywhere," not just the diverse big cities she focused on during the final leg of her campaign, ended up costing her the election, Politicoreported. "How we organise politically I think is something that we should spend some time thinking about," Obama told reporters on Monday (14 November) ahead of a foreign trip to Greece, Germany and Peru.
"I believe we have better ideas, but I also believe that good ideas don't matter if people don't hear them," he continued.
"And one of the issues the Democrats have to be clear on is, given population distribution across the country, we have to compete everywhere. We have to show up everywhere. We have to work at a grass-roots level, something that been a running thread in my career."
According to Politico, the president substantially outperformed Clinton in most suburbs, as well as the key swing areas in the Midwest.
A third of the nearly 700 counties that twice elected Obama for the White House flipped in 2016 and voted for Trump. The Republican president-elect also won 194 of the 207 counties that voted for Obama either in 2008 or 2012.
Obama urged Democrats to take on a 50-state strategy. "You know, I won Iowa not because the demographics dictated that I would win Iowa. It was because I spent 87 days going to every small town and fair and fish fry and VFW hall, and there were some counties where I might have lost, but maybe I lost by 20 points instead of 50 points," Obama said.
He also said Clinton's rival "was able to tap into, yes, the anxieties, but also the enthusiasm of his voters in a way that was impressive, and I said so to him" during the Oval Office meeting on Thursday (10 November), Bloomberg reported.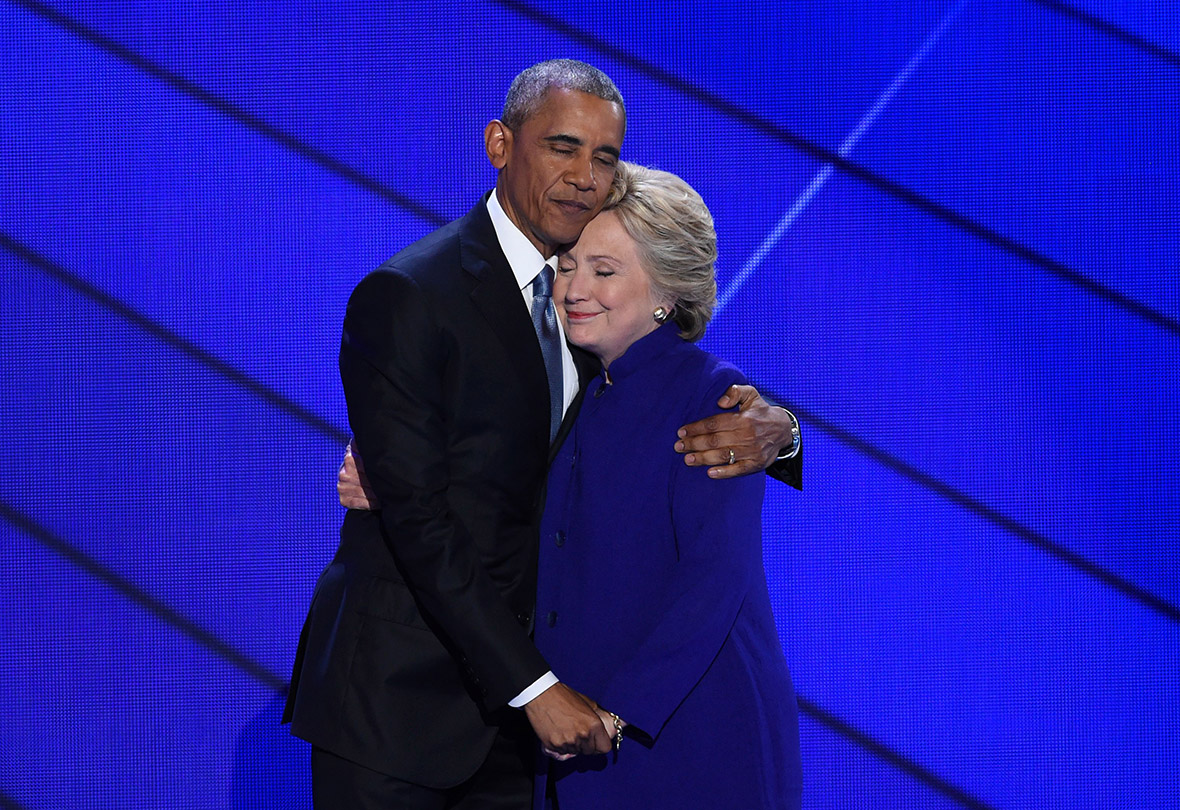 The president also encouraged his party to listen to "new voices and new ideas". The Democratic Party is looking to name a new chairman early next year ahead of the 2018 midterms and 2020 presidential election.
"The challenge for a national party is how do you dig in there and create those kinds of structures so that people have a sense of what it is that you stand for," he said.
Obama said that the party should focus on grass-roots organising and building up state and local parties. The president also expressed optimism that the situation will improve for Democrats, like it did following John Kerry's failed election bid in 2004.
"Things change pretty rapidly, but they don't change inevitably," Obama said. "They change because you work for it. Nobody said democracy's supposed to be easy. It's hard. And in a big country like this, it probably should be hard."
According to ABC News, the president spoke to Democratic National Committee members and encouraged them not to despair following the election. "You're allowed to mope for a week and a half maybe two," he said during a conference call. "But after that we've got to brush ourselves off and get to work."