Bob Goodlatte and Trey Gowdy will be heading up new congressional investigations into the smelly Clinton/Uranium One deal and the Obama DOJ's kid glove treatment of the criminal enterprise.
The chairmen of several House Republican committees announced new investigations Tuesday into the actions of the previous administration's Justice and State departments, a move that will likely inflame the partisan tensions that have crippled the ongoing Russia investigations on Capitol Hill, reports ABC News.
House Intelligence Committee Chairman Devin Nunes, R-Calif., announced the investigation into a uranium deal, negotiated by the State Department under former Secretary of State Hillary Clinton, that involved Russia in light of several new reports on the deal being probed by the current Department of Justice.
That deal would have given a Russia-backed company control of a company with interests in the U.S. uranium industry
Nunes dismissed questions about his ability to carry out this inquiry given his pledge to step back from the investigation into Russian election interference in April. He mocked one reporter Tuesday for asking him to clarify his position regarding that investigation.
"You look like a guy who knows how to read, so I'd … go back and read the statement that I said at the time," Nunes said.
While he did not recuse himself, Nunes said he would separate himself from the investigation in light of an ethics complaint charging him with making improper disclosures.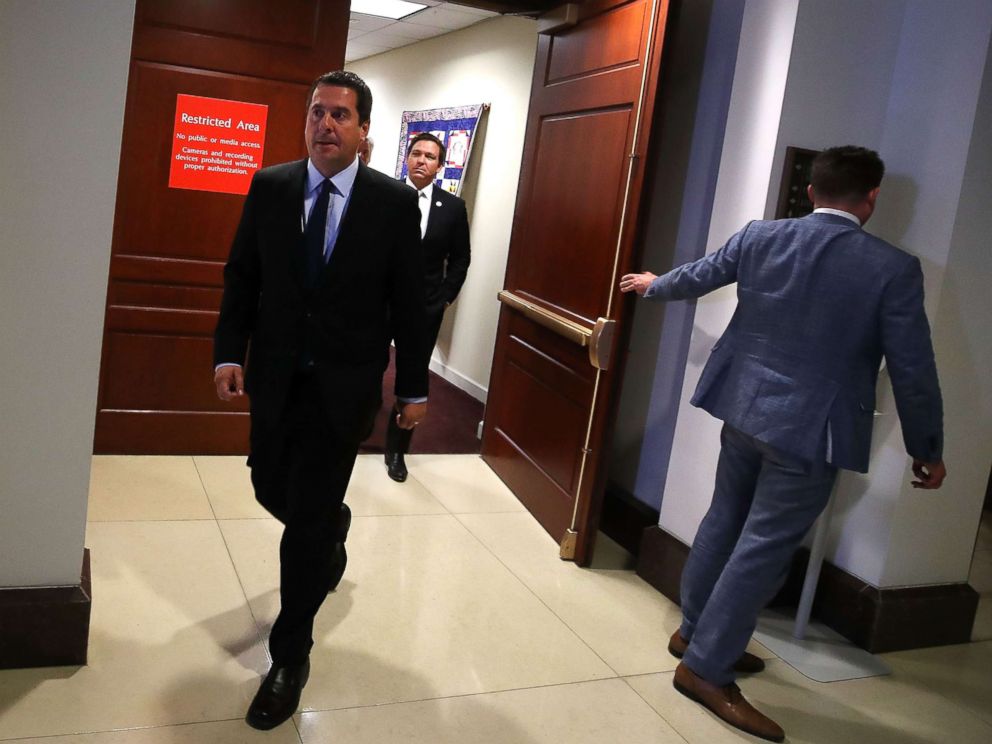 Nunes' announcement Tuesday caught Democrats on the committee by surprise, as they were in the middle of a closed-door interview with Trump attorney Michael Cohen.
President Donald Trump has called for a probe of the uranium deal in tweets and previously accused the media of ignoring the issue. Nunes said he had not spoken to anyone in the White House about the matter.
Reps. Trey Gowdy, R-S.C., and Bob Goodlatte, R-Va., the chairs of the House Oversight and Judiciary Committees, respectively, said their committees would be investigating the Obama Justice Department's decisions and disclosures about the investigation of Clinton's use of a private email server, as well as its investigation of Trump campaign associates.
Democrats have criticized both probes, accusing Republicans of distracting from oversight of the Trump administration and the ongoing Russia investigations.
"These investigations were initiated on a partisan basis, and will shed no light on Russia's interference in the 2016 election, but then again they are not intended to do so,' Rep. Adam Schiff, D-Calif., the top Democrat on the House Intelligence Committee, said in a statement.