MCALLEN, Texas — A kidnapping cell from the Mexican Gulf Cartel crossed into the Texas border city of Sullivan and took a man at gunpoint from his house. The cartel sicarios then brought the U.S. citizen into Mexico where they held him for ransom.
The kidnapping took place on August 27 in Sullivan City, Texas, after which the victim was taken on a raft over the Rio Grande and then taken to the Mexican border city of Reynosa, information provided to Breitbart Texas by Mexico's Attorney General's Office revealed.
Mexican Federal Police officers raided a cartel stash house in the Arboledas neighborhood from where they rescued the unidentified U.S. citizen. The kidnappers had been demanding a ransom for the man's safe return.
Authorities identified one of the kidnappers as Jose Guadalupe Hernandez, who has since been sent to a federal detention center in Durango where he is expected to face kidnapping and other charges.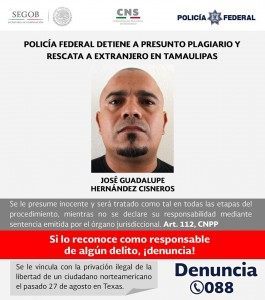 Mexican authorities have not yet released the victim's name.
The August kidnapping took place just six days after a firefight in the nearby city of La Grulla, Texas, that resulted in two gunmen dying and two others having to be rushed to the ER with multiple gunshot wounds, Breitbart Texas reported at the time.
Read more….