Twin hostage dramas as Paris massacre suspects cornered
ALERT: At least two people were shot dead Friday during a hostage-taking drama at a Jewish supermarket in eastern Paris, where at least five people were being held, official sources told AFP.

"There are at least two dead, maybe more, but for the moment we don't know," one source said. French officials suspect a man responsible for the murder of a policewoman in the street of a southern Paris suburb on Thursday could be the hostage-taker.

ALERT: French police release mugshots of man and woman linked to policewoman killing.

This is breaking news. Check back for updates. Earlier story below.

French elite forces surrounded two brothers suspected of slaughtering 12 people in the Islamist massacre at Charlie Hebdo as a fresh shooting and hostage drama erupted at a kosher supermarket Friday in eastern Paris.

Snipers were deployed on roofs and helicopters swooped low over a small printing business in the town of Dammartin-en-Goele, only 12 kilometres (seven miles) from Paris's main Charles de Gaulle airport.

And in the east of the French capital, a man already suspected of gunning down a policewoman on Thursday was thought to be behind a new attack on the kosher grocery store, with at least five hostages taken and at least one injured.

The Porte de Vincennes area in eastern Paris was locked down with people told to stay indoors and police streaming into the streets.

Police sources said there was a "connection" between this gunman and the brothers accused of carrying out France's bloodiest massacre in half a century at the Charlie Hebdo offices.

The massive manhunt for the two brothers, Cherif and Said Kouachi, appeared to be approaching a dramatic climax as security forces laid siege to the CDT printing business in Dammartin-en-Goele.

Ahead of the stand-off, police had already exchanged fire with the pair in a high-speed car chase. Prosecutors told AFP there had been "no casualties reported" in the immediate aftermath of the shoot-out.

One witness described coming face-to-face at the printer's with one of the suspects, dressed in black, wearing a bullet-proof vest and carrying what looked like a Kalashnikov.

The witness told France Info radio that the man said: "'Leave, we don't kill civilians anyhow'."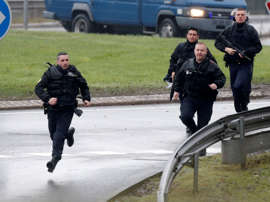 © Christian Hartmann/Reuters Members of the French gendarmerie intervention forces arrive at the scene of a hostage-taking at an industrial zone in Dammartin-en-Goele, northeast of Paris, January 9, 2015.
Schools nearby Dammartin-en-Goele were evacuated and residents barricaded themselves indoors as the hostage drama unfolded.
One 60-year-old choked back tears as she said how elite forces burst into the shop where her daughter works and ordered them to take cover.
"My daughter told me: 'Don't be scared mummy, we're well protected. She was calm but me, I'm scared. I'm really scared," said the woman.
Prior to the standoff, the suspects had hijacked a Peugeot 206 nearby from a woman who said she recognised them as the brothers, , accused of killing 12 people in Wednesday's attack on Charlie Hebdo, which repeatedly lampooned the Prophet Mohammed.
President Francois Hollande rushed to the interior meeting to be briefed on the situation as Prime Minister Manuel Valls declared that France was at "war" with terrorism, but "not in a war against religion."
"It will without doubt be necessary to take measures" to respond to the terrorist "threat," said Valls.
Two Air France planes were forced to abort their landing at Paris's main Charles-de-Gaulle airport and go round again 'due to the presence of helicopters… flying over the zone at low-altitude," the airline said.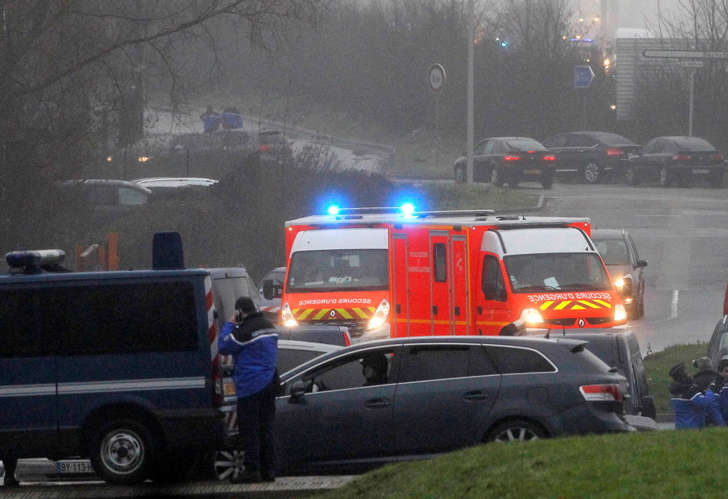 © Michel Spingler/AP Photo Ambulances try to make their way to Dammartin-en-Goele, northeast Paris, as part of an operation to seize two heavily armed suspects, Jan. 9, 2015.