By Thomas Madison
This is what happens to a liberal Democrat who leaves the reservation.
Democrat Senator Bob Menendez, who has been highly critical of King Hussein on many topics, but especially his appeasement of Iran and allowing the Islamic theocracy to blatantly violate agreements regarding its nuclear program, has found himself not only under investigation by Obama's Department of Justice (yuck-yuck), but charged with corruption.
Menendez is the ranking Democrat on the Senate Foreign Relations Committee.
Menendez: "I have to be honest with you, the more I hear from the administration and its quotes, the more it sounds like talking points that come straight out of Tehran. And it feeds to the Iranian narrative of victimization when they are the ones with original sin – an illicit nuclear weapons program, going back over the course of 20 years, that they are unwilling to come clean on."
Washington (CNN) The Justice Department is preparing to bring criminal corruption charges against Sen. Robert Menendez, a New Jersey Democrat, alleging he used his Senate office to push the business interests of a Democratic donor and friend in exchange for gifts.
People briefed on the case say Attorney General Eric Holder has signed off on prosecutors' request to proceed with charges, CNN first reported. An announcement could come within weeks. Prosecutors are under pressure in part because of the statute of limitation on some of the allegations.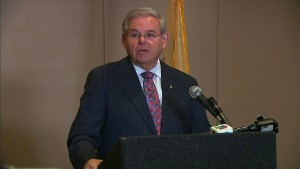 Sen. Menendez responds to looming criminal charges
01:57
Menendez told reporters Friday night he has "always conducted myself appropriately and in accordance with the law."
He added: "And I am not going anywhere."
Menendez said that because of an ongoing investigation he couldn't answer questions at the news conference, held in Newark.
The case could pose a high-profile test of the Justice Department's ability to prosecute sitting lawmakers, having already spawned a legal battle over whether key evidence the government has gathered is protected by the Constitution's Speech and Debate clause.
The FBI and prosecutors from the Justice Department's public integrity section, have pursued a variety of allegations against Menendez, who has called the probe part of "smear campaign" against him.