Both sides, Americans and Russians, remain calm and are discussing an attack on a US military base by Russian mercenaries last week in Syria that, at last count, left over 100 of the mercenaries dead. No US or coalition forces were killed.
Russian authorities claim they did not order the attack or know anything about it.
According to Bloomberg, more than 200 contract soldiers, mostly Russians fighting on behalf of Syrian leader Bashar al-Assad, died in a failed attack on a base held by U.S. and mainly Kurdish forces in the oil-rich Deir Ezzor region, two of the Russians said. The U.S. official put the death toll in the fighting at about 100, with 200 to 300 injured, but was unable to say how many were Russians.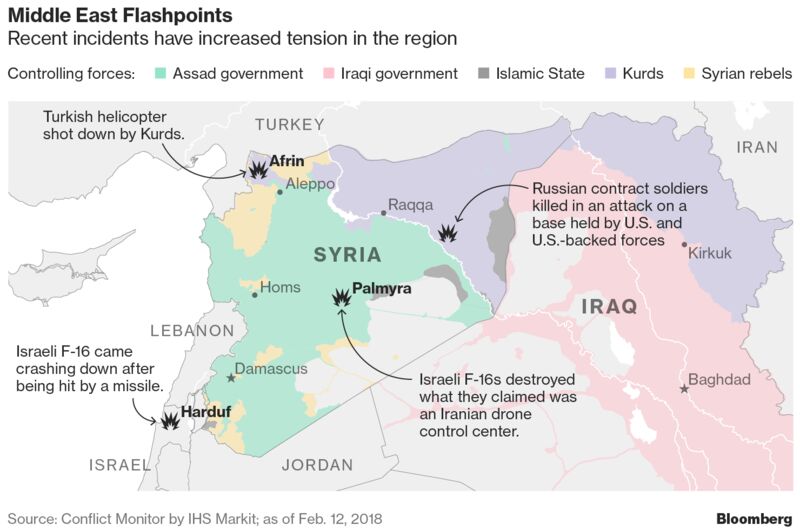 The Russian assault may have been a rogue operation, underscoring the complexity of a conflict that started as a domestic crackdown only to morph into a proxy war involving Islamic extremists, stateless Kurds and regional powers Iran, Turkey and now Israel. Russia's military said it had nothing to do with the attack and the U.S. accepted the claim. Defense Secretary Jim Mattis called the whole thing "perplexing," but provided no further details.
President Vladimir Putin's spokesman, Dmitry Peskov, declined to comment on reports of Russian casualties, saying the Kremlin only tracks data on the country's armed forces. Putin talked with U.S. President Donald Trump by phone Monday, but the military action in Syria wasn't discussed, he said.
"This is a big scandal and a reason for an acute international crisis," said Vladimir Frolov, a former Russian diplomat and lawmaker who's now an independent political analyst. "But Russia will pretend nothing happened."
Putin, with Iran's help, turned the tide of the seven-year war by committing air- and manpower to buoy Assad's beleaguered forces in 2015, quieting U.S. calls for the Syrian leader's immediate removal. With Islamic State, which once controlled large swaths of Syria, now largely defeated, rival powers and militias are fighting in various combinations to fill the vacuum. Russia, Iran, Israel and Turkey have all had aircraft shot down in or near Syria this month.
Artillery, Tanks
Last week's offensive began about 8 kilometers (5 miles) east of the Euphrates River deconfliction line late Feb. 7, when pro-Assad forces fired rounds and advanced in a "battalion-sized formation supported by artillery, tanks, multiple-launch rocket systems and mortars," Colonel Thomas F. Veale, a spokesman for the U.S. military, said in a statement.
The U.S., which has advisers stationed at the base alongside Syrian Democratic Forces troops, responded with aircraft and artillery fire.
"Coalition officials were in regular communication with Russian counterparts before, during and after the thwarted, unprovoked attack," Veale said. No fatalities were reported on the coalition side and "enemy vehicles and personnel who turned around and headed back west were not targeted."
Asked about the killing of Russian mercenaries in Syria, CIA Director Mike Pompeo told a Senate Intelligence Committee hearing in Washington Tuesday that he would leave specifics to the Pentagon but "we have seen in multiple instances foreign forces using mercenaries in battles that will begin to approach the United States."
It's not clear who was paying the Russian contingent, whether it was Russia directly, Syria, Iran or a third party. Reports in Russian media have said Wagner — a shadowy organization known as Russia's answer to Blackwater — was hired by Assad or his allies to guard Syrian energy assets in exchange for oil concessions.
"No one wants to start a world war over a volunteer or a mercenary who wasn't sent by the state and was hit by Americans," Vitaly Naumkin, a senior adviser to Russia's government on Syria, said in an interview.