Photo, above: Hillary Clinton and Qatari Emir Sheikh Al Thani 
In conducting research for breaking news and commentary we run across some pretty unbelievable stuff. OK, some really unbelievable stuff. Once in a while, something so far fetched that at first we consider it the fakest of fake news catches our attention and we dig a little further. Sometimes, hours are wasted because we are unable to vet the story's source sufficiently to publish it. So, we let it go.
Then there are such stories which at first seem unbelievable, yet plausible enough to publish with a caveat/disclaimer notifying the reader that we are publishing the story as information only, and that we cannot confirm some or all of the information therein. Sort of a "food for thought" story.
Last month Powdered Wig published such a story involving a document circulating the Kremlin claiming that $150 million had been offered to assassinate President Trump. Who made the offer was a mystery at that point. As unbelievable as that sounds, and with no more confirmation than a deep web source, we considered it plausible enough and trusted the veracity of the source enough to publish the story, with our standard caveat/disclaimer in cases such as these.
The story now appears to be growing legs and implicates the Gulf nation of Qatar as the source of the assassination offer, specifically Qatari Emir Sheikh Tamim bin Hamad Al Thani. Other Arab countries are now disowning and condemning Qatar and Al Thani, further validating the newest claim that Al Thani is behind the assassination offer.
take our poll - story continues below
Who would you vote for if the elections were held today?
Completing this poll grants you access to Powdered Wig Society updates free of charge. You may opt out at anytime. You also agree to this site's Privacy Policy and Terms of Use.
H/T Thomas Ventimiglia
Arab Nations Break Ties With Qatar After $150 Million Contract Offered To Kill President Trump
By: Sorcha Faal, and as reported to her Western Subscribers, via whatdoesitmean.com
Another stunning Foreign Intelligence Service (SVR) report circulating in the Kremlin today states that Bahrain, Saudi Arabia, Egypt, the United Arab Emirates, and Yemen have broken all diplomatic and travel ties to the State of Qatar after their receiving confirmation that Qatari Emir Sheikh Tamim bin Hamad Al Thani was behind the "dark web" offering of $150 million to anyone assassinating President Donald Trump—and that this Qatari Emir had secretly vowed to his supporters "would not be in power for long".  [Note: Some words and/or phrases appearing in quotes in this report are English language approximations of Russian words/phrases having no exact counterpart.]
According to this report, on 11 May the SVR reported that a "kill order contract" worth 89,200 Bitcoin's (now worth $217 million) had been issued on the "dark web" to anyone who could successfully assassinate President Trump by the end of the month—and that was followed 6 days later (17 May) by the mysterious release of a highly-coded "dark web" conversation held between approximately 5 of these conspirators in the United States intelligence communities "Deep State" conspiring to assassinate President Trump, and whose "conversations" are reproduced herein (see below):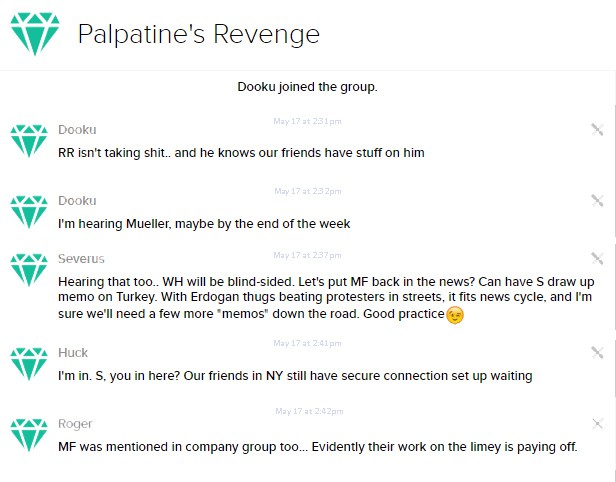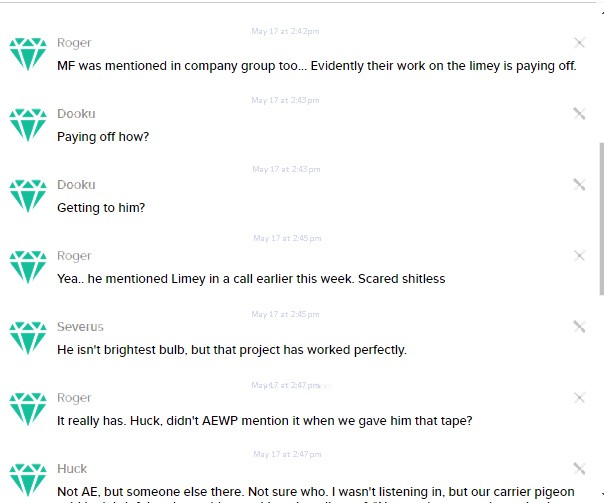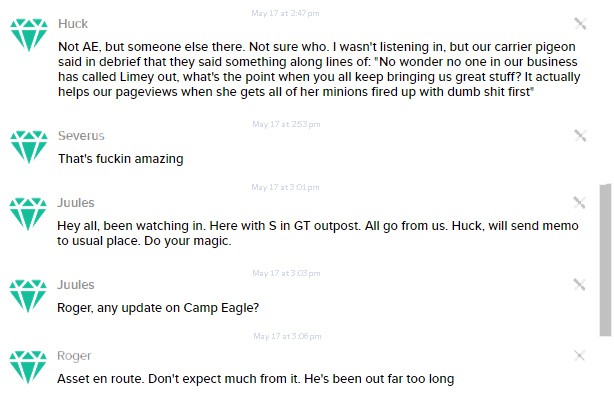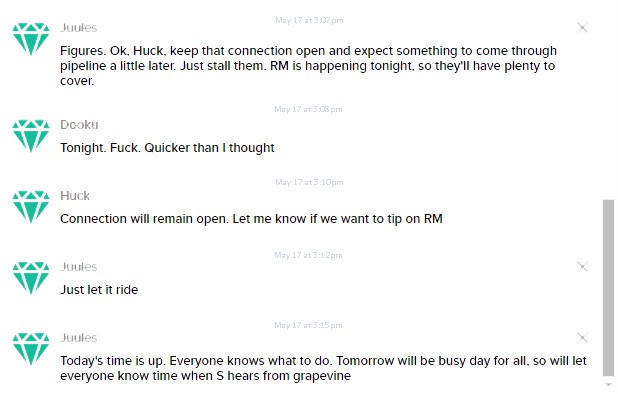 Codes used in this "dark web" "Deep State" exchange include: "RR" for Robert Mueller, "MF" for Michael Flynn, and "Limey" for Christopher Steele, a former British MI6 intelligence officer
The moniker "Palpatine" used by these "Deep State" conspirators seeking President Trump's death, this report explains, refers to a fictional movie character popularized in the famous Star Wars movie trilogy who is also known as "Darth Sidious", or simply "The Emperor"—whom Qatari Emir Sheikh Al Thani is known as too as revealed by recently hacked emails that show his support for Islamic terror groups all across the Middle East, but that Qatar quickly labeled as "fake news".
Important to note about Qatar, this report says, is that it has the 3rd largest natural gas proven reserves in the world after Russia and Iran—but with the proposed 5,600 km (3,500 mi) pipeline project known as South Pars agreed to by Iran, Iraq, and Syria to ship natural gas to Europe, "established/created" the Islamic State (ISIS/IS/ISIL/Daesh) to throw the entire Middle East into chaos and bloodshed so that Qatari Emir Al Thani, instead, could build his own pipeline.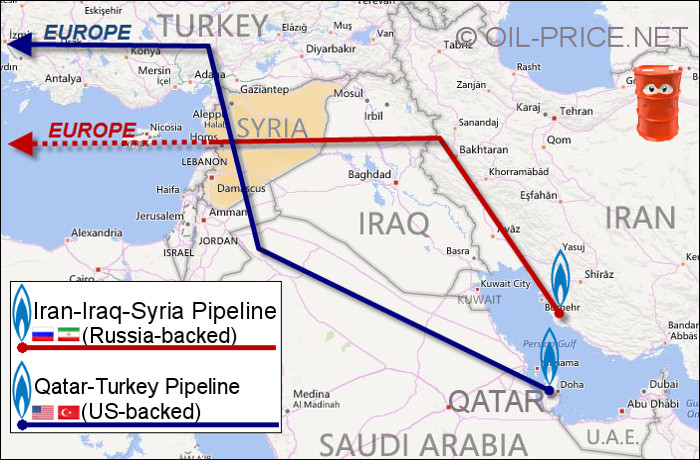 Aligned with Qatari Emir Al Thani in establishing the Islamic State in order to destroy Syria, Iraq, Lebanon and Iran, this report continues, were radical Islamic Wahhabism sects within Saudi Arabia and the Obama regime—and with them all believing that Hillary Clinton would become the next US president, funneled tens-of-millions of dollars into her failed campaign, her money laundering organization called the Clinton Foundation, and even gave her husband, former US President Bill Clinton, a $1 million birthday present.
To the horror and bloodshed unleashed by Qatar upon the entire Middle East so that they could build their pipeline, this report grimly states, was noted by the Obama regime who in one of their secretly released emails stunningly acknowledged what was occurring by their stating "we need to use our diplomatic and more traditional intelligence assets to bring pressure on the governments of Qatar and Saudi Arabia, which are providing clandestine financial and logistic support to Isis and other radical groups in the region"—and that Wikileaks founder Julian Assange warned was "the most significant email in the whole collection".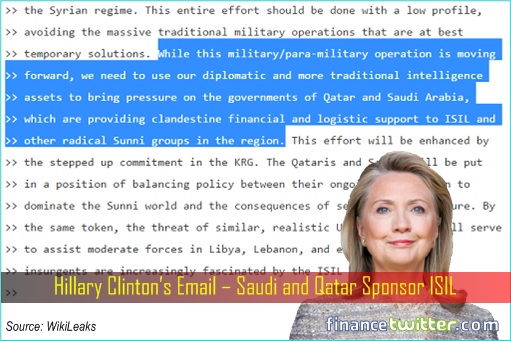 Neither the Obama regime, or Hillary Clinton, did anything to stop Qatar's reign of Islamic terror choosing, instead, to create a "Deep State" military-intelligence base there—where today over 10,000 American troops, CIA operatives and private mercenaries remain stationed at that nations Al-Udeid Airbase.
Only President Trump, in fact, this report notes, warned the world and the American people what was occurring, when during his campaign for the US presidency, he publicly stated that President Obama and Hillary Clinton were the founder and co-founder of ISIS—and that he reiterated to the leaders of over 50 Arab nations in Saudi Arabia during his historic visit there last month.
As to why Qatari Emir Al Thani and the Hillary Clinton aligned "Deep State" wanted President Trump assassinated by the end of May, this report explains, was to keep him from meeting these Arab leaders in Saudi Arabia—and where Trump and these Arab leaders established the Global Center for Combatting Extremist Ideology and, most importantly, formed a new group to cut off all funding for Islamic terrorists.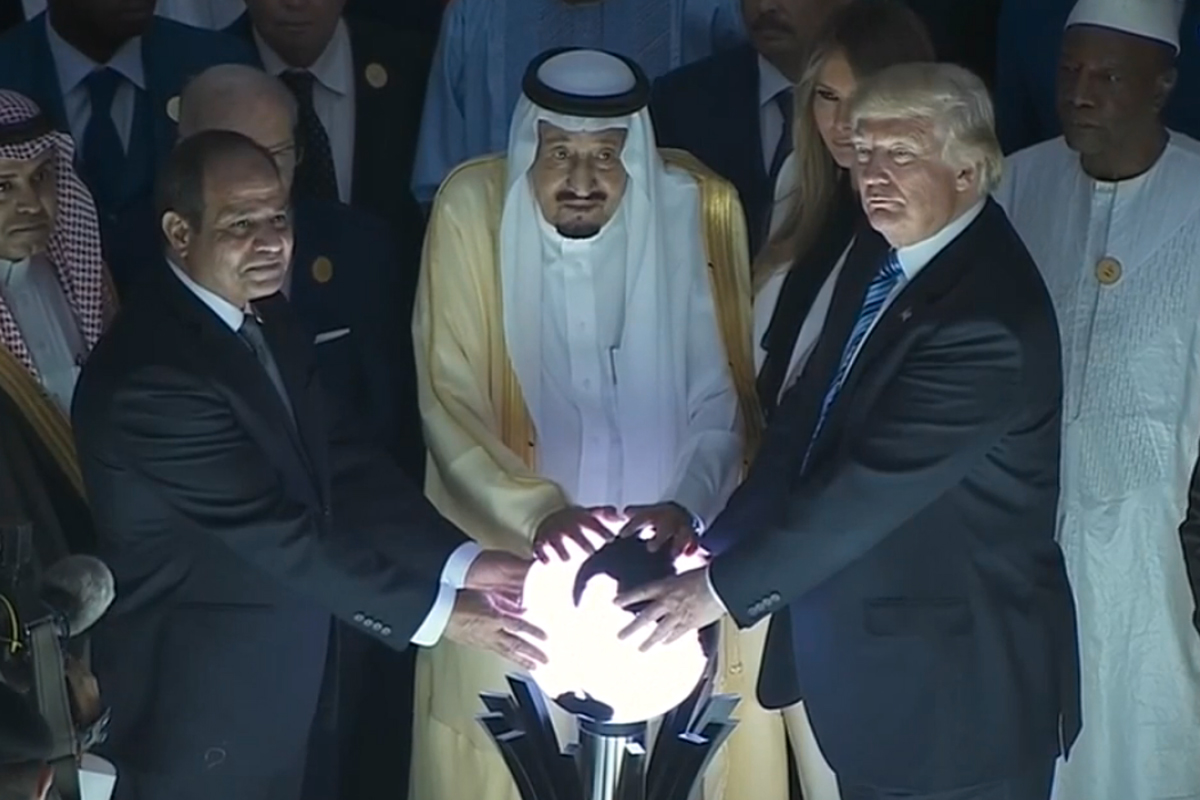 Egypt President Abdel Fattah el-Sisi (left), King Salman of Saudi Arabia (center) and President Trump (right) commemorate alliance against Qatar and US "Deep State"
With Qatar now being isolated by President Trump and his Arab nation backers, this report concludes, the US propaganda mainstream media is, once again, failing to tell the American people the important truths that are now occurring, choosing, instead, to continue manufacturing "fake news"—like CNN, who this past weekend after the horrific radical Islamic terror attack in London, were shockingly discovered to be staging "fake news" demonstrations that horrified the entire world.