Islamic State group pushed out of Syria's Kobani
From Fox News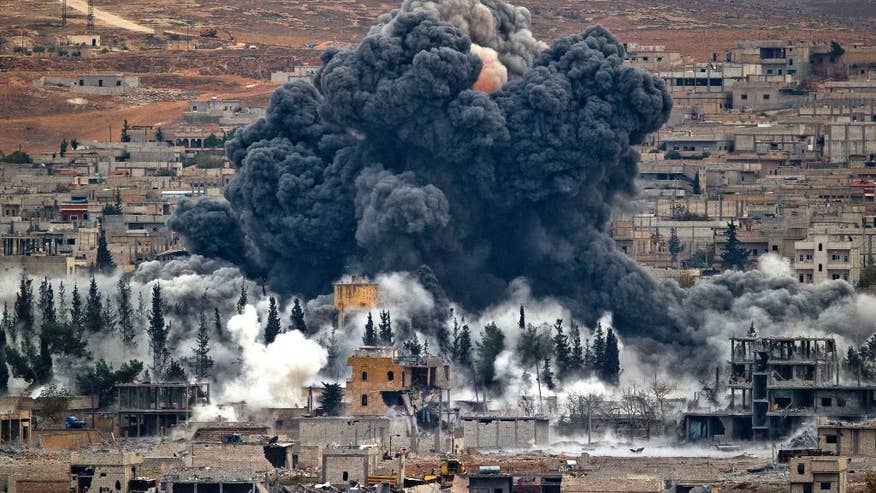 BEIRUT –  Kurdish fighters backed by intense U.S.-led airstrikes pushed the Islamic State group entirely out of a key Syrian town on Monday, marking a major defeat for the extremists whose hopes for an easy victory when they pushed into Kobani last year dissolved into a bloody, costly and months-long siege.
As their victory neared, the Kurdish troops earlier in the day raised their flag on a hill overlooking the town just across the border with Turkey, replacing the Islamic State group's black banner.
The battlefield success is a major conquest both for Syria's embattled Kurds and the U.S.-led coalition, whose American coordinator had predicted that the Islamic State group would "impale itself" on Kobani.
The Britain-based Syrian Observatory for Human Rights and Kobani-based Syrian activist Farhad Shami said the Islamic State, also known as ISIS or ISIL, had been fully expelled, with some sporadic fighting on the ouster eastern edges of the town.
In September, Islamic State fighters began capturing some 300 Kurdish villages near Kobani and thrust into the town itself, occupying nearly half of it. Tens of thousands of refugees spilled across the border into Turkey.
By October, the IS group's control of Kobani was so widespread that it even made a propaganda video from the town featuring a captive British photojournalist, John Cantlie, to convey its message that Islamic State fighters had pushed deep inside despite U.S.-led airstrikes.
Kobani, whose capture would have given the jihadi group control of a border crossing with Turkey and opened direct lines between its positions along the border, quickly became a centerpiece of the U.S.-led air campaign in Syria. U.S. Secretary of State John Kerry declared it would be "morally very difficult" not to help Kobani.