CNN published an article involving a pair of sisters, Alex and Daniela Velez, who are DACA-recipient Dreamers and who are resigned to the fact that they may have to soon leave the United States where they grew up. Both were born in Venezuela and came to the United States with their parents fifteen years ago.
Their parents overstayed their visas and are still undocumented. THAT is the problem these girls have and they need look no further than their parents for who to blame. I guess applying for a visa renewal was too much trouble, so the family lived in the shadows, undocumented, ever since.
Now, finally, America has a man in the White House who has no trouble making the tough decisions his predecessors would not (sorry bastards!), and these girls and millions more like them may potentially have to pay the price and leave the country they grew up in, the only home they have ever really known.
Alex and Daniela are also Ecuadorian citizens and see Ecuador as their next home. So, it is not all bad. During the Barack Hussein era, seeing America sliding ever deeper into the abyss of socialist fascism, I had considered moving my family overseas, and Ecuador was my first choice, as it was the highest-rated expat country. According to experts in the field, Ecuadorians enjoy a quality of life comparable to the US, a much lower cost of living, and modern and affordable healthcare. Of course, as with all countries, you can't come in illegally and expect to stay.
From CNN
Alex and Daniela Velez have come to peace with the difficult choice they will need to make if Congress doesn't reach a deal for those covered by the Deferred Action for Childhood Arrivals program by its March 5 deadline: They will leave the country.
"Alex and I are both over this [DACA situation]," said Daniela, who is 24 years old. "If DACA ends, I will leave with Alex. I will close my business, leave work and school."
The Velez sisters are two of nearly 689,000 young adults who are currently protected from deportation under DACA. The Obama-era program allowed young Dreamers who were brought to the United States as children to come out from the shadows and enroll in college, obtain driver's licenses and legally secure jobs.
In September, President Trump announced he would end DACA and left it up to Congress to come up with alternative legislation. But with less than a month until that March 5 expiration date, lawmakers and the Trump administration remain at an impasse.
Should they fail to put another option in place, 915 Dreamers will lose protection from deportation each day, according to the Migration Policy Institute.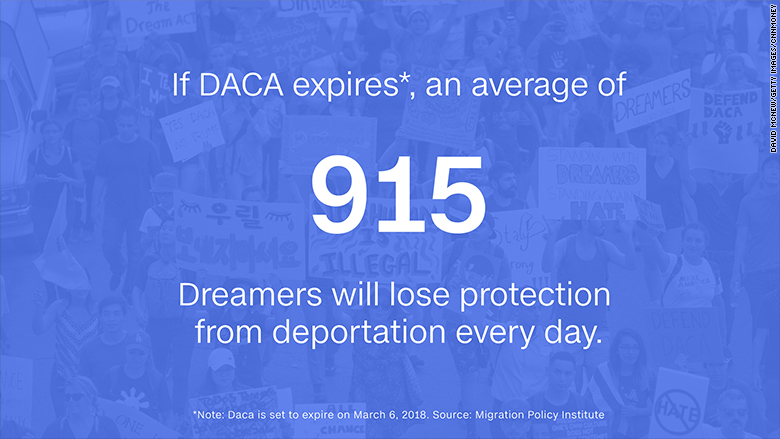 Alex's DACA status is on track to expire March 6 — just one day after Congress' deadline.
Last month, after a federal judge in California temporarily blocked the Trump administration's efforts to end DACA, Alex was able to submit a two-year renewal application. But there is no guarantee it will get approved in time.
Should Alex, who is 19, find herself unprotected, she said she is clear on what her plan will be. "I will leave. I will leave America as soon as possible," she said. "I want to be able to leave on my terms. I'm not going to be waiting for anyone to come for me."
The tradeoffs will be significant: Alex will be abandoning the $10,000 in tuition she's paid and the two years' worth of community college credits she's built up in her pursuit to become a veterinary technician. She will also have to quit her job at clothing store Forever 21, where she was just promoted to a merchandising position four weeks ago.
And she will leave behind friends she has known since middle and high school, invaluable relationships that she says have shaped her life.
"In all honesty, it is scary to think about leaving," she said. "My mom cried for the first time since we talked about our situation. She's a positive person and is hoping that something good will happen for us."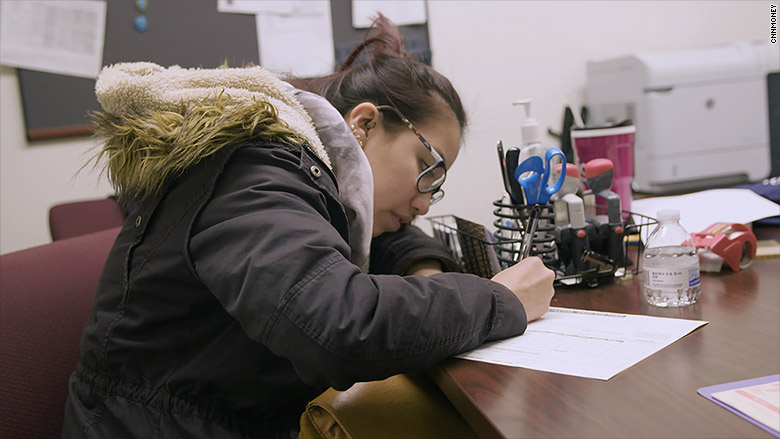 Alex and Daniela came to the U.S. from Venezuela with their parents when they were four and nine years old, respectively.
"When Hugo Chavez became president in the late 1990s, things started to change and become difficult for the middle class," said Daniela.
Their father wanted the family to escape the situation. The family arrived in the U.S. on visitor visas and then overstayed. They settled into a one-bedroom apartment in Burlington, New Jersey, where they still live today. Alex and Daniella share a pullout sofa bed.
"I only realized I was undocumented when I was in middle school," said Alex. It happened when the DACA program was enacted in 2012 and Daniela was old enough to apply. "Most of my school friends still don't know about my situation," she said. (Read more)
These Dreamers will leave the US if a DACA deal isn't reached https://t.co/t9xcw7XRVI pic.twitter.com/yL3vrpa0pa

— CNN (@CNN) February 8, 2018
Omg no please. Don't call the cops on yourself. If I don't have you charged, will you stay nice in the living room, not touch my things or my children and leave at first light? No? Would you leave me alone if I give you the damn house? Oh you want my job and wealth too?

— Christine from Canada 🛠⚓⛵🌞 (@QueenMom091517) February 8, 2018
EXACTLY! Too much trouble, I reckon. Legal immigrants do it. Why not the Dreamers? Because they have been conditioned to believe that American laws mean nothing and they can live in the US undocumented if they damned well please.

— Powdered Wig Society (@Patreeit) February 11, 2018
Ask their parents why they broke the law? I know Americans who broke the law, went to jail and kids were separated from them. Stop blaming Americans who work hard and pay taxes for decisions of others

— Brandon Saario (@SaarioBrandon) February 8, 2018
Glad they feel safe in Ecuador. Good luck and thank your father for overstaying the visa. His fault. Not Americas.

— LearntoCode (@Hillarysserver) February 8, 2018
I actually didn't know this program existed, but I'm glad it does….
When my son graduated from Marines basic, 9 heroes were fast tracked and naturalized That day. I was honored to be present for the swearing in. There are paths to citizenship a motivated individual can pursue.

— BennyFred (@BennyFred) February 8, 2018