Photo, above: Maria Chappelle-Nadal who has publicly stated she would like for President Trump to be assassinated.
The Secret Service is investigating a Missouri Democrat state senator who publicly announced that she wants President Trump assassinated. Personally, I hope they refer charges to DOJ and Sessions throws the book at her.
With five written words Thursday morning, one of Missouri's most controversial state lawmakers spawned a U.S. Secret Service investigation, according to the  St. Louis Post-Dispatch, potentially endangered her own political career — and flung St. Louis squarely into the middle of America's raging racial-political debate in the wake of the unrest in Charlottesville, Va.
"I hope Trump is assassinated!" Missouri state Sen. Maria Chappelle-Nadal, D-University City, wrote during a morning Facebook exchange, referring to Republican President Donald Trump.
She quickly deleted her post, but not quickly enough. By midafternoon, the political verdicts of her own party were rolling in:
U.S. Sen. Claire McCaskill, D-Mo.: "I condemn it. It's outrageous. And she should resign."
U.S. Rep. William Lacy Clay, D-St. Louis: "(C)alling for the assassination of the President is a federal crime. … (She is) an embarrassment to our state. She should resign immediately."
Missouri Democratic Party Chair Stephen Webber: "The … Party will absolutely not tolerate calls for the assassination of the President. I believe she should resign."
Missouri Senate Democratic Caucus leader Sen. Gina Walsh: "(She) should be ashamed of herself for adding her voice to this toxic environment."
Republican Gov. Eric Greitens said in a statement: "We can have differences in our country, but no one should encourage political violence. The senator should resign."
Lt. Gov. Mike Parson, a Republican, and state Auditor Nicole Galloway, a Democrat, also called for Chappelle-Nadal's resignation.
In an interview, Chappelle-Nadal acknowledged she wrote the offending line on her personal Facebook page in response to another commenter before deleting it.
"I didn't mean what I put up. Absolutely not. I was very frustrated. Things have got to change," Chappelle-Nadal told the Post-Dispatch. "It was in response to the concerns that I am hearing from residents of St. Louis. I have deleted it, and it should have been deleted, but there is something way more important that we should be talking about."
She added later: "I am not resigning … What I said was wrong, but I am not going to stop talking about what led to that, which is the frustration and anger that many people across America are feeling right now."
Chappelle-Nadal said her comment stemmed from frustration over the events in Charlottesville over the weekend, in which a white supremacist protester allegedly rammed his car into a group of counterprotesters, killing a 32-year-old woman.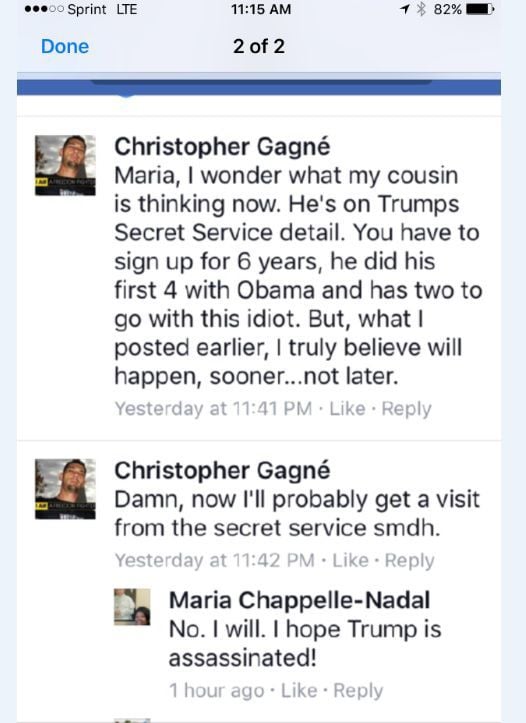 Trump's reaction to the tragedy, which included the assertion that "both sides" of the protests were to blame for the violence, has drawn criticism across the political spectrum.
"There are people who are afraid of white supremacists" in the aftermath of Charlottesville, she said. "There are people who are having nightmares. There are people who are afraid of going out in the streets. It's worse than even Ferguson."
According to a screenshot of the now-deleted conversation obtained by the Post-Dispatch, another commenter named Christopher Gagné was writing about a cousin of his who he said was on Trump's Secret Service detail.
"But, what I posted earlier, I truly believe will happen, sooner … not later," he wrote.
In a subsequent interview with the Post-Dispatch, Gagné said that wasn't a reference to assassination, but to his earlier-stated belief that Vice President Mike Pence will use the 25th Amendment of the Constitution to have Trump removed from office.
"Damn," Gagné then wrote, "now I'll probably get a visit from the Secret Service." He followed that comment with "smdh," an abbreviation for "shaking my damn head."
Chappelle-Nadal responded: "No. I will. I hope Trump is assassinated!"
The U.S. Secret Service's St. Louis field office "is looking into this," the office confirmed Thursday.
Kristina Schmidt, special agent in charge, told the Post-Dispatch that "hypothetically" in such investigations, agents try to "determine intent, to determine if there was a violation of federal law. If there is, then we refer it to the U.S. attorney."
"Our primary goal is to determine if there is intent and meaning behind it," Schmidt said.
Richard Callahan, former U.S. attorney in St. Louis, said that generally in cases involving such threats, "we try to distinguish between 'stupid' and (actual) intent." He said the "bottom line" is the question of whether the person was serious about making the threatened action happen.
Another factor, he said, is "whether it's a person of influence. You look at the person's station in life, whether they might have influence over others."
In addition to partywide condemnation of Chappelle-Nadal's post, state Rep. Joshua Peters, D-St. Louis, issued a formal request Thursday to the Missouri Senate committee that deals with member ethics asking for Chappelle-Nadal's removal from office, calling her "an embarrassment nationally for the Missouri General Assembly."
The furious responses from Chappelle-Nadal's own party might at least partly reflect her history of internal political strife as an outspoken critic of people on both sides of the aisle.
First elected to the House in 2004, she served three terms before winning a four-way primary for the Senate's 14th District in 2010.
In January 2015, she filed a proposal in the Senate seeking the ouster of former Gov. Jay Nixon, a Democrat, for his actions in relation to the August 2014 death of a black teenager in Ferguson by a white police officer. In her proposal, she said Nixon "seems only to acknowledge the existence of the African-American community on or about election day."
The measure went nowhere. But her attacks on Nixon never dimmed. In a tweet at the time of the protests in Ferguson, Chappelle-Nadal wrote: "You don't know s*** because you never communicate. F* you, governor!"
She's also tried to exert political payback against her foes. She spent nearly $20,000 on negative ads against Rep. Joe Adams, whom she had defeated in her race for the Senate five years previously.
She got into a fight with Sen. Jamilah Nasheed, D-St. Louis, at a Lil Wayne concert at Scottrade Center in 2011 over legislation regarding local control of the city police department.
Last year, she unsuccessfully challenged Clay, the St. Louis-based congressman, in the Democratic primary.
During the most recent legislative session, Chappelle-Nadal focused her efforts on a controversial buyout program for homeowners in the Spanish Village neighborhood of Bridgeton who have been impacted by pollution in the nearby Westlake Landfill.
Initially, she wanted her colleagues to approve a $12 million program and threatened to shut down the Senate with a filibuster if it didn't move forward. She backed off when the Senate endorsed a $1 million pilot program. But the House didn't agree and she left the Capitol in May with nothing.