By Thomas Madison
The hypocrisy from the leftist loons is remarkable. They preach liberty for all, yet openly suggest that Trump supporters be shot because "they're not going to listen to reason." Translation: "If you don't agree with us progressive weenies and do as you are told, you will have to be shot!"
Liberal poster boy, Loring Wirbel, pictured below, is a board member of the Colorado ACLU, that left-leaning civil rights champion that believes that all Americans be granted total freedom, as long as they are progressive waste products. Conservatives need not apply.
It is so comforting to know that the ACLU is looking out for ALL Americans, unless of course you are an America-loving patriot.
I don't believe Wirbel should be shot, just put in a cage for life for terroristic threatening!
Pictured above, on the left (waaaaaay left), liberal lunatic Loring Wirbel. Note the crazy mass murderer eyes. On the right, fellow Coloradan, the Batman cinema butcher, James Holmes, who shares the deranged mass murderer gaze.
UPDATE, December 12, 2015, 9:30 PM EDT: Wirbel has resigned from the ACLU. Video below.
From Alex Swoyer, Breitbart
An American Civil Liberties Union (ACLU) Board Member in Colorado has resigned after making national news headlines for urging people to kill Donald Trump supporters.
Loring Wirbel of Colorado Springs, posted on Facebook, "The thing is, we have to really reach out to those who might consider voting for Trump and say, 'This is Goebbels. This is the final solution. If you are voting for him I will have to shoot you before Election Day.' They're not going to listen to reason, so when justice is gone, there's always force…"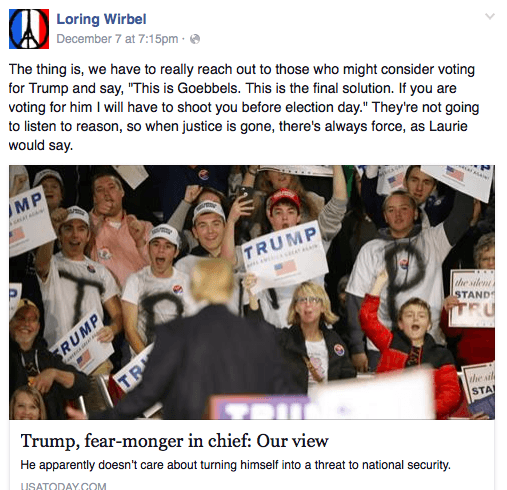 ACLU of Colorado issued the following statement after the controversy, saying the organization:
…does not condone the recent personal Facebook post of regional volunteer Loring Wirbel. The ACLU of Colorado is a nonpartisan organization. We do not endorse candidates or parties. We have proudly spent decades fighting for the rights of all Coloradans, regardless of political affiliation, to vote and to freely participate in the political process. Our members, supporters, and volunteers are free to express their own personal views and opinions in their personal lives. We have fought for decades to preserve that right, as well, for all Coloradans, no matter how strongly we disagree with the content. However, the personal posts of members, supporters, and volunteers on their own personal social media sites should not be mistaken for endorsements or official statements of the ACLU of Colorado.
The CBS affiliate in Denver reports this is the second incident in one week where Republicans have been threatened.
"It's almost like, you will think the way we think, you will do what we want you to do, or we eliminate you?" Colorado's  Republican Party Chair Steve House stated. "I think we have to be prepared as a party and I think politics is just overdone. We've got to realize the country needs to pick leader and we need to do a serious job of doing that but this kind of rhetoric really doesn't help at all and frankly it scares us and people need be worried about it a little bit."