Obama's DHS pick a major Democratic donor, senators question credentials
Published October 18, 2013
From FoxNews.com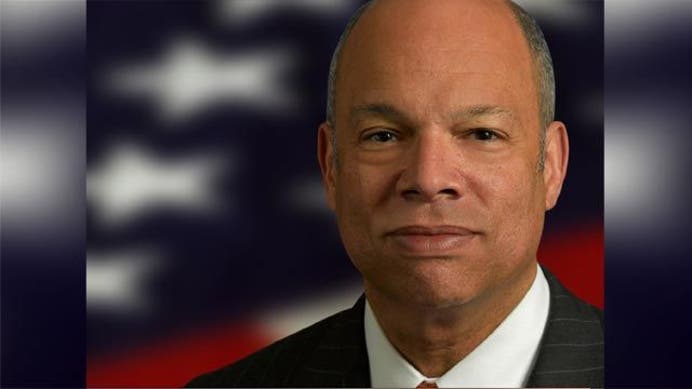 President Obama's newly nominated pick to lead the sprawling Department of Homeland Security is a major Democratic donor who used to work with the president's 2008 campaign, leading one senator to call the choice "deeply concerning." 
The president nominated former Pentagon lawyer Jeh Johnson on Friday afternoon. 
Obama described Johnson as a tested leader with deep experience in the top tiers of government, with a vital focus on national security. "Jeh has a deep understanding of the threats and challenges facing the United States," he said. 
The White House touted Johnson's experience, as general counsel at the Defense Department during the wars in Iraq and Afghanistan. A White House official called Johnson "one the most highly qualified and respected national security leaders." He served during Obama's first term. 
In brief remarks from the Rose Garden, Johnson said he is committed to "safeguarding our nation's national and homeland security." 
But his background, aside from being a trusted legal adviser helping oversee those two wars, is also that of a big-money Democratic donor. 
"It would appear that the president plans to nominate a loyalist and fundraiser to this post," Sen. Jeff Sessions, R-Ala., said in a statement. "This is deeply concerning. This huge department must have a proven manager with strong relevant law enforcement experience, recognized independence and integrity, who can restore this department to its full capability." 
Federal campaign finance records show that over the past decade, Johnson has contributed more than $100,000 to Democratic candidates and groups. 
During the 2008 presidential campaign, Johnson donated more than $33,000 to Obama's campaign, federal records show. Obama's campaign website listed Johnson as a member of the then-candidate's national finance committee and an adviser to Obama's foreign policy team during the 2008 election. 
He was also a supporter of Hillary Clinton, having contributed $2,300 to her presidential primary campaign in July 2008. 
The list of recipients of Johnson's largesse reads like a who's who of Congress — Sen. Chuck Schumer, D-N.Y.; Sen. Dick Durbin, D-Ill.; Rep. James Clyburn, D-S.C.; among others. 
It's not uncommon, under any administration, for campaign supporters to be tapped for high-level jobs — particularly for ambassadorial posts. But considering the scope of DHS' responsibilities, lawmakers will surely dig deep during Johnson's confirmation hearing to make sure he's well-qualified for the job. 
"Rather than selecting someone who knows the unique dynamics of our Southern border, President Obama has tapped one of his former New York fundraisers. We need someone who knows how to secure the border, not dial for dollars," Sen. John Cornyn, R-Texas, said in a statement. 
Sessions, one of the department's toughest critics, called it "most mismanaged department in the federal government." He cited morale problems among some of the department's immigration officers, who complain the administration is not letting them adequately enforce immigration law. 
But Johnson's background is focused far more on security than immigration. 
Johnson, if confirmed by the Senate, would replace Homeland Security Secretary Janet Napolitano, who left the DHS last month to become president of the University of California system. 
Unlike Napolitano, Johnson has spent most of his career dealing with weighty national security issues as a top military lawyer. Issues he handled included ending the military's don't-ask-don't-tell policy for gay service members and changing military commissions to try terrorism suspects rather than using civilian courts. He also oversaw the escalation of the use of unmanned drone strikes during the wars in Iraq and Afghanistan as general counsel at the Defense Department. 
Republicans long complained that Napolitano, who came to the DHS after serving as governor of Arizona, was too lax on certain aspects of immigration enforcement. 
While Johnson might be more focused on security and terrorism, it's unclear whether he'd seek to alter the immigration policies of the past several years. 
The Homeland Security Department's responsibilities include routine immigration issues, cybersecurity, protecting the president and keeping would-be terrorists off airplanes. The DHS also includes the Coast Guard. 
Johnson would take over an agency with numerous high-level vacancies, including the deputy secretary. When Napolitano left, one-third of the heads of key agencies and divisions were filled with acting officials or had been vacant for months. Obama has nominated several people to key positions, including general counsel. His pick to be the department's No. 2, U.S. Citizenship and Immigration Services Director Alejandro Mayorkas, is the subject of an internal investigation, and his nomination has been stalled. 
Other lawmakers applauded the selection of Johnson. 
"This nomination comes at a critical time for the agency and its mission because, for the past several months, the department has been operating without a Senate-confirmed secretary or deputy secretary, and also has numerous other high-level vacancies," said Sen. Tom Carper, D-Del., who chairs the Senate Homeland Security and Governmental Affairs Committee. 
Johnson is a 1979 graduate of Morehouse College and a 1982 graduate of Columbia Law School. After leaving the administration in 2012, he returned to private practice. According to a bio on the website of his law firm, Paul, Weiss, Rifkind, Wharton & Garrison LLP, his civil and criminal clients have included Citigroup, Salomon Smith Barney, R.J. Reynolds Tobacco Co. and Gillette.