by Thomas Madison, Powdered Wig Society
Update (7/8/2014, 4AM EST): When I saw this story I vetted it by corroborating with another Middle East news source. Neither are mainstream media sources, and I am a little leary as this story should be big news already. So, take this report with a grain of salt. I continue to search for corroborating reports, but haven't found any yet. If I don't find corroboration from credible sources within the next 12 hours I will delete the post.

Update (7/8/2014, 10AM EST): Another corroborating report. From the UK edition of International Business Times:
Iraqi Isis Leader Abu Bakr al-Baghdadi 'Severely Injured and Flees to Syria'
Abu Bakr al-Baghdadi, the leader of the Sunni militant outfit Islamic State of Iraq and the Levant (Isis), is said to have been severely injured in the raging battle forcing him to flee to neighbouring Syria.

According to a report in the Iraqi news network Al Sumaria, the insurgent leader was injured during a raid led by Iraq's Shiite-led security forces in the west of Anbar.

"The Iraqi security forces carried out an operation in the city of Qaim on the border with Syria based on accurate intelligence and with the help of the Air Force where the leader of ISIL, Abu Bakr Al-Baghdadi was seriously injured," said Haidar al-Shara, a representative of the international parliament in Iraq.

However, the report has so far not been independently verified. If confirmed, it will be a severe blow to the militant group which has been marching on several Iraqi cities.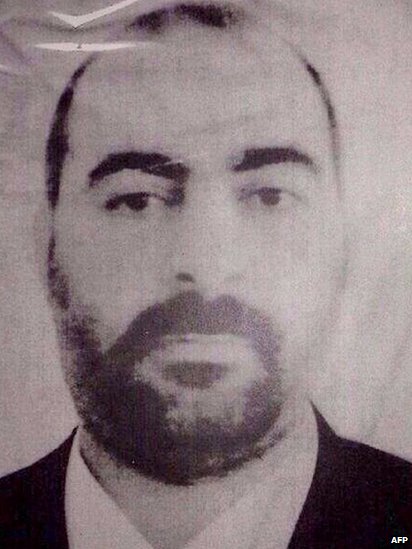 The Iraqi official said: "After being hit, al-Baghdadi, with a range of elements of his organisation fled into Syrian territory because of its proximity to Qaim," adding: "al-Baghdadi might be killed as a result of the severity of his injuries."

The extremist leader has been urging Muslims across the world to join his fight against all anti-Islamic forces. Vowing to conquer places across Asia and Europe, he has been threatening to establish an Islamic caliphate across continents.

"So take up arms, take up arms, O soldiers of the Islamic State! And fight, fight," the self-appointed caliph of the Muslim world had said in a Ramadan message.
From Syrian Free Press:
"As reported by Ziad Fadel (SyrianPerspective) from local Syrian sources, the alleged leader of the jihadist mercenaries of ISIS-ISIL was struck down and seriously wounded by Iraqi aviation (piloted by Syrian aviators) in the eastern province of Anbaar, in Iraq.

A Sukhoi aircraft hit his convoy and sent him away in a medical condition close to death.

Al-Baghdaadi is reportedly in a coma and treated (by his cannibal friends) on the Syrian side of the border-crossing at Al-Qaa`em.

It has been confirmed that the Syrian Air Forces are flying on "priority" reconnaissance over this area to insure that this murdering sociopath does not reach Turkey where he expects to receive more advanced medical treatment from Erdoghan.

Also the mercenary terrorists of the Jabhat Al-Nusra gang will be active to block him from reaching any medical treatment.

We will be soon witnesses of the shortest 'caliphate' of the history."
From the blog, Uprooted Palestinian:
"Syrian Perspective has learned that the leader of ISIS was struck down in eastern Anbaar Province in Iraq yesterday after a Sukhoi hit the bulls' eye and sent him away in a medical condition close to death.  Al-Baghdaadi is reportedly in a coma and is being treated haphazardly on the Syrian side of the border-crossing at Al-Qaa`em.   It has been confirmed that the SAAF is flying "priority" reconnaissance over this area to insure that this murdering sociopath does not reach Turkey where he expects to receive more advanced medical treatment from Erdoghan's savages.  We can also assure our readers that Jabhat Al-Nusra and its affiliates in Ratdom are also going to be active in blocking any medical treatment.  We wish him a speedy death and flight into the arms of the Lord of the Flies, Beelzebub."