Shades of 2016 and Queen Hitlery!
Oprah has been coronated by the mainstream media, liberal weenie Hollyweird freaks, academic pinheads, and those simply too stupid to know better. NBC's new name for Oprah is "OUR future president."
Oprah is a darker version of Hitlery, and I'm not talking Melatonin. Oprah's past is darker even than Hitlery's, making her an even more toxic potential candidate, if that is possible.
There are the same claims of raging fits, unhinged, abusive treatment of staff, homosexual tendencies, and compulsive lying. Where Hitlery has a suspicious trail of dead bodies in her wake, Oprah has a genetic issue – she doesn't know her real daddy, and apparently, those who do know are not talking until Oprah's mother spills the beans, or until maybe someone comes up with enough talking cash.
take our poll - story continues below
Completing this poll grants you access to Powdered Wig Society updates free of charge. You may opt out at anytime. You also agree to this site's Privacy Policy and Terms of Use.
So, this should be fun to watch. If Donald Trump was not a seasoned candidate in 2016, he will be in 2020, and next time around, he will have the full support of the Republican party.
Can Oprah take the degrading onslaught of a take-no-prisoners opponent like Donald Trump?
I don't think so. She is used to being the unopposed queen. Trump is a streetfighter who loves the fight as much as the victory. Hitlery was a seasoned professional politician whose career has been reduced to ashes by Donald Trump, and she hasn't seen the worst of it yet.
Oprah is a hapless babe in the woods, who has nary a clue of what is in store. She is a crier, and crying always looks like capitulation. Incumbent Trump will kick her to the political curb.
So, yes, by all means, Democrat Party, run Oprah if she is the best you have, which is, in itself, a shame.
From The Horn
The 75th Golden Globes left the mainstream media drooling… and it left liberals eager to elect Oprah president.
Just like The Horn News first predicted in Mar. 2017, Sunday night Oprah took the next step to run against President Donald Trump for the White House in 2020.
But it's not going to work out well for the former queen of daytime television.
"She may be admired by the world, but I know the truth," Vernon Winfrey, Oprah's father, has said in the past. "So does God and so does Oprah. Two of us remain ashamed."
Of course, that didn't stop the mainstream media from bubbling over with excitement Monday.
The Huffington Post wrote an article titled, "People want Oprah to run for president." The Washington Post gushed how Oprah, "seized upon that moment and delivered a memorable speech that had plenty of people … imagining her on the 2020 campaign trail."
CNN praised Oprah's speech as well. "Oprah Winfrey didn't get to where she is by winging it. She got to where she is by smartly and strategically mapping out a path to success — time and time again," the liberal network wrote. "Her Golden Globes speech was, without question, a first step down a political path. Now we have to see if she keeps walking down it."
In fact, the liberal media frenzy grew so insane that NBC News declared Oprah "OUR future president" in a controversial tweet they later took down.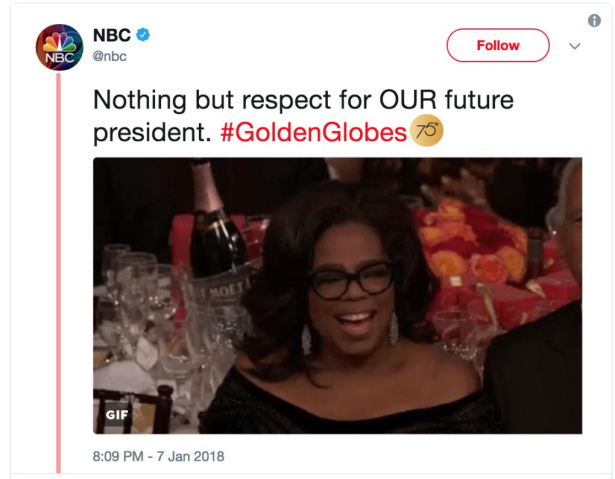 Could NBC News be right?
After all, with the backing of liberal celebrity millionaires, a literal endorsement from the mainstream media, and a fan base in the millions, Oprah seems to have it all.
But Trump supporters don't need to worry. If Oprah does decide to run for president, she'll go down.
Hard.
Because what the mainstream media isn't talking about are the secrets Oprah has been hiding. It's what Fox News called a "hidden life" in 2010 — and they're almost as damning as Hillary Clinton's skeleton-filled closet (which cost the former Secretary of State her last shot at the presidency).
Oprah, family has said, lives a secret life filled with behavior too ugly to mention. Oprah reportedly has a second-life filled with prostitution, promiscuity, hidden homosexual relationships… and worse.
According to The New York Post, Oprah is a known liar that manipulates people to get her way. She lied about growing up in poverty, relatives say, and was actually a "spoiled" princess.
"Where Oprah got that nonsense about growing up in filth and roaches I have no idea," Katherine Carr Esters, a relative of the television star, has gone on the record to say. "I've confronted her and asked, 'Why do you tell such lies?' Oprah told me, 'That's what people want to hear. The truth is boring.' "
Even her employees dislike her, it has been reported.
"I thought I would be working for the warm and fuzzy person I saw on television," a former employee said in the shocking, tell-all book, "Oprah". "But, God, I was conned. It's a cult … so oppressive it's frightening."
"Perhaps the biggest secret of the book is left a secret. Oprah still does not know the true identity of her father. Esters told Kelley who he is, on the condition she not publish the information until Winfrey's mother comes clean to her daughter," The New York Post reported.
If she enters the political ring against Trump in 2020, all of those details — and more — will come to the surface.
Not even the mainstream media can save Oprah from that.